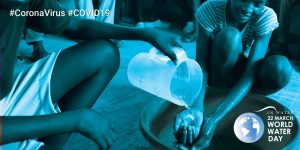 Usually, World Water Day on 22 March is a time to meet face-to-face and discuss how to tackle the global crisis in water and sanitation. With the new Coronovirus outbreak many of us have needed to change our plans for World Water Day events. To help, UN-Water has prepared some advice, and in line with World Health Organisation recommendations; they and partners such as ourselves are encouraging good hand hygiene practices as part of this year's event. As we take the recommended precautions, including washing our hands frequently,  we are mindful that there are still too many people in this world without access to safe water. We will be helping promote water and wellbeing on the day – if planning to post on social media, feel free to tag us for the rest of the IAH family and beyond to see.

The original theme for World Water Day 2020 was water and climate change – and how the two are inextricably linked. The World Water Development report will still be launched online on the day; we'd also like to remind you that we published a related paper in our Strategic Overview Series last year. See links below.
Following on from this, our Commission on Groundwater and Climate Change is in discussion with IWRA, IGRAC and others to organise the first online conference on "Addressing Groundwater Resilience under Climate Change", which will most likely take place in late October. They have formed an International Scientific Committee and held a first meeting online recently. Look out for further news soon.
The Commission also reports that the European Master Programme on Groundwater and Global Change (www.groundwatermaster.eu) has entered its second phase, with 80 more scholarships available (fifth edition of the programme currently running).
Questions or comments? Email info@iah.org. Please keep safe and help to inform others how to do so.
IAH Secretariat
Find out more
https://www.worldwaterday.org/
Link for upcoming World Water Development report
Watch a video: https://www.un-igrac.org/areas-expertise/groundwater-climate-change
For other interesting publications check our commission website: https://gwclimate.iah.org/resources-and-links/publications
Source: IAH