The IAH Mineral and Thermal Waters Commission website is now up and running at https://cmtw.iah.org/.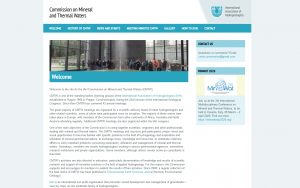 As you will read, the commission is one of the longest standing groups of IAH – so as well as latest news and initiatives, you'll also find some interesting historical facts about CMTW and IAH overall.
As with all our commissions and networks, you do not have to be an IAH member in order to participate. We encourage wide involvement from the groundwater community, as this will help the groups to thrive and give greater authority to their work. Do take a moment to look at the site and get in touch with the CMTW committee if this is an area of interest to you.
Secretariat

Find out more
Website for Commission on Mineral and Thermal Waters (CMTW)
Source: IAH