An infographic entitled "Groundwater – Critical for Sustainable Development", which illustrates a timeline of groundwater use throughout history and projected outcomes of continued groundwater abstraction was launched during the 2nd Southern African Development Community – Groundwater Management Institute (SADC-GMI) conference in Johannesburg, South Africa.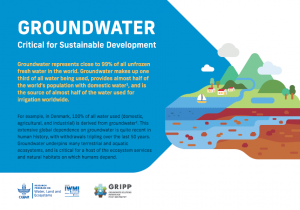 The graphic can be used as an awareness raising tool for schools and other institutions and stakeholders.
IAH is one of the supporting GRIPP partner organisations, alongside IWMI, CGIAR-WLE,  BGS and Skat. As you can see, IAH is mentioned in the timeline, marking the emergence of science – and sharing knowledge globally – in order to better understand the resource and to help identify solutions to groundwater risks now and in the future.
Find out more
Groundwater – Critical for Sustainable Development infographic (small file size)
Groundwater – Critical for Sustainable Development infographic (high quality/print file)
Groundwater Solutions Initiative for Policy and Practice (GRIPP)
Source: IAH