Our Netherlands chapter is proud to announce their new website, https://netherlands.iah.org.
On the website you will find information about the committee, which includes Ane Wiersma (secretary and treasurer) and Niels Hartog (President). Both are fairly new to their roles, working together with Michael van der Valk. The website also has news and resources, and will be expanded over time.
The chapter has also set up an IAH Netherlands LinkedIn group: https://www.linkedin.com/groups/12209323/. This will act as a platform for IAH members in the Netherlands to interact online and also for hydrogeologists elsewhere interested in local activities, news, etc. in the region.
The committee would also like to draw your attention to a forthcoming meeting held in honor of the retirement of Prof. Dr. Pieter Stuyfzand on the 29 November 2019. Details will follow.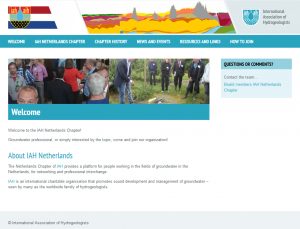 The committee welcomes suggestions, questions and general enquires. Contact details are on the website.
Find out more
Source: IAH