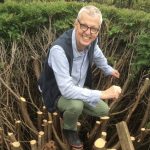 We are very sad to announce the sudden death in Exeter, Devon, at the age of 67 of Ian Gale, long time IAH member and founding co-chair of the IAH Commission on Managed Aquifer Recharge. Ian joined the Hydrogeology Group of the British Geological Survey in 1972, first working on the hydrogeological investigations for the Great Man-made River Project in Libya. Subsequent international groundwater resources work took him to Botswana in 1974-76 and Fiji in 1978-80 and again in 1985-88. Nearer to home, he was involved in the UK Geothermal Resources Programme and led research on the potential for denitrification in British aquifers. His interest in enhancing recharge to aquifers led to the UK-DFID funded project in India and Nepal. Ian was Head of the BGS Groundwater Programme from 2007 to 2010 and retired in 2011.
Ian was a founding member of an IAH working group on artificial recharge which first met at the Cape Town Congress in 2000. With the encouragement of Andrew Skinner, then Secretary General of IAH, to form a Commission, Ian invented the term "Managed Aquifer Recharge" (MAR) which became of the title of the Commission, and he became its founding co-chair in 2002. The term MAR which has been in continuous use around the world since, is one of Ian's legacies. The first task the new commission set itself was to develop a foundational UNESCO-IAH document "Strategies for MAR in semi-arid areas" to encourage understanding and acceptance of MAR. Ian edited that evergreen document, published in 2005, which is still widely cited and downloadable from the Commission's website. A longer appreciation can be seen on the MAR Commission website. Ian stepped down as co-chair of the Commission on his retirement from BGS.
Over and above his professional achievements, Ian holds a special place for the individual he was. He had a thoughtful and caring approach to the people with whom he worked. He was humble and courteous and a pleasure to work with as a mentor and partner, being encouraging, generous and patient. He was also inspiring, with a creative spark and wise counsel. On behalf of IAH, we extend our sympathy to the Gale family, and to his colleagues in BGS and IAH.
Read more at IAH's MAR Commission website
Source: IAH